What are Regenerative Blowers?
Regenerative blowers, also known as ring blowers or side channel blowers, are positive displacement blowers that use a unique design to generate high-volume, low-pressure airflow.
History of Regenerative Blowers
Regenerative blowers have been around for over a century and have undergone several design changes over time. The earliest models were powered by steam engines, while modern models are powered by electric motors. Despite the changes, regenerative blowers have remained an indispensable part of the industrial landscape.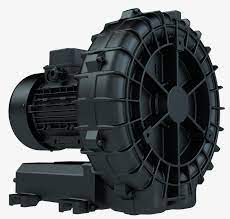 The first regenerative blower was invented by a German engineer named Carl von Linde in 1875. This device was initially used to create refrigeration, but it was later adapted for other uses, including air compression. The invention of regenerative blowers marked a significant milestone in the history of industrial technology, and it paved the way for many other innovations in the field of air compression.
How do Regenerative Blowers Work?
Regenerative blowers work by compressing the air within a series of chambers, which are connected to the inlet and outlet ports of the blower. The impeller in a side channel blower rotates inside a housing that has both an inboard and an outboard channel. The blades of the impeller suck in air as they pass the inlet port and the rotation of the impeller pushes the air out and forward into the channels, where it returns to the base of the blade. This continuous process of air being drawn in and expelled gives the blower its ability to generate pressure and vacuum.
A regenerative blower functions as a multi-stage compressor, with each blade-to-blade regeneration stage leading to a small increase in pressure.
Most blowers are single-stage, meaning that the air circulates around the housing only once before being expelled.
However, two-stage regenerative blowers can produce nearly double the pressure or vacuum compared to single-stage units. In a single-impeller two-stage design, air travels once around the front side of the impeller, then gets redirected to the backside through internal channels, and completes one more revolution before being expelled.
Benefits of Regenerative Blowers
There are several benefits to using regenerative blowers, including:
Efficiency: Regenerative blowers are highly efficient, as they compress and transport air with minimal energy loss. This makes them a cost-effective option for many applications.
Reliability: Regenerative blowers are known for their reliability, as they are designed to operate continuously for extended periods with minimal maintenance.
Low Noise Levels: Regenerative blowers are also known for their low noise levels, which makes them ideal for applications where noise pollution is a concern.
Flexibility: Regenerative blowers are available in a wide range of sizes and configurations, making them suitable for a variety of applications and industries.
Applications of Regenerative Blowers
Regenerative blowers are used in a variety of applications, including:
Industrial: Regenerative blowers are commonly used in industrial applications, such as wastewater treatment, air conditioning, and food processing.
Commercial: Regenerative blowers are also used in commercial applications, such as heating, ventilation, and air conditioning (HVAC) systems.
Agricultural: Regenerative blowers are used in agricultural applications, such as the aeration of greenhouse plants, livestock barns, and grain storage facilities.
Regenerative blowers have several advantages over other types of air compressors. For one, they are highly efficient, using less energy to generate the same amount of airflow as other types. Additionally, they are compact, making them ideal for use in tight spaces. And finally, they are relatively low-maintenance, requiring only minimal upkeep to keep them functioning at peak performance.
However, there are also some disadvantages to using regenerative blowers. For example, they are not as effective at producing high-pressure airflows as other types and are also more expensive to purchase and install.
Feel free to visit HVH Industrial Solutions if you have any questions, need more information, or are interested in purchasing a regenerative blowers.
Also, you can check our Engineering Blog for more informative articles.