In this technological age, the terms "security" and "privacy" have become inseparable parts of our lives.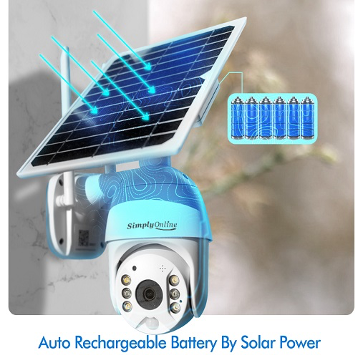 The most expensive areas, riches places, and residential and commercial areas in a city are constantly monitored. Security and surveillance systems have evolved dramatically in recent years as a result of technological advancements. And when these security and surveillance systems perform well, we'll be put at ease.
In today's market, there are primarily two types of security cameras: wireless and wired.
Wireless CCTV cameras:
Wireless CCTV cameras transfer and send footage from cameras in the house to the available Wi-Fi. It's an entirely wireless transmission. The signal is received via Wi-Fi and delivered to a cloud server, where the footage can be viewed in real-time or preserved for later viewing. Night vision, two-way audio, and HD video are all common features in Wireless CCTV cameras.
Advantages of wireless security cameras:
1. Very easy and quick to install:
The ease of installation is one of the biggest advantages of getting a wireless solar system. There will be no drilling or wires to deal with. Wireless solar cameras don't need to be near a power outlet because they have their own power source. You can place them wherever they would best support your surveillance strategy
2. Wire-free: no wires at all
Wireless solar cameras have several advantages and pros. But the most notable them is that they do not require or need cords. It is easy for criminals to attack establishments that are secured by wired CCTV cameras. All these thieves need is a pair of cutters for the wires.
By disconnecting power connections, thieves can disable the most recent and new wired CCTV cameras. however, solar wireless surveillance cameras have no wires to assault.
3. Flexibility
Because there are no wires, solar wireless CCTV cameras provide more freedom because they can be placed in any desired spot. You no longer need to bother yourself looking for different power sources for connecting them. You can program Wi-Fi/Solar CCTV cameras to a variety of settings and physically transfer them to a different area without having to deal with cords. A shortcoming of having wired CCTV cameras is that you are limited to only using them in some specific locations where wires and other equipment are easily accessible because obviously, they need cables and wires to work, unlike wireless CCTV cameras. Being able to move cameras fast and install them in high or ideal locations without having to worry about plugs and cables could save you a lot of time and effort. When it comes to wireless cameras; however, you are free to place them wherever you'd like to. Furthermore, the absence of wires makes it much easier to conceal the cameras, which is beneficial if the cameras are being installed as a safety precaution.
4. Secured Footage
Besides the fact that many wireless CCTV cameras come with alarm monitoring services, most of the current wireless CCTV systems save/send information directly to the cloud, ensuring that the recordings are fully secure. If your wired security system sends data to an onsite backup, there are not much stopping individuals from breaking in and destroying or stealing the surveillance footage. However, it is a different case when it comes to Cloud based CCTV cameras. The recorded footage will remain even if you try to destroy or delete the data. A cloud based CCTV system also employs advanced encryption techniques for digital data, ensuring that your camera feed is safe from intruders.
Wireless CCTV cameras make our lives better. After checking carefully all the features and advantages of your ideal CCTV cameras, purchase one to secure your house, farm, barn, or work site.